When it comes to hair, I'm not exactly the expert. It's not that I can't do my hair well – I'm just lazy in the mornings and the extra sleep is worth not looking my best for a bunch of high school students. But as a person with frizzy hair, I do have a few go-to products to make my hair sleek and pretty, and two of them were featured on the 33 Best Hair Products on MSN.
Tresemme Thermal Heat Tamer Protective Spray – Not only is this heat spray super cheap at any drug store, but it's the only one I've found (out of dozens!) that doesn't leave my hair greasy or oily. I use it either before blow drying or after blow drying and before straightening (although usually the latter) and it helps keep my strands sealed so that my hair isn't as damage by the heat, while helping to hold my style.
Chi Straightening Iron – A few years ago, after going through several moderately-expensive irons, one of my friends begged me to try Chi and I've never looked back. I found a brand-new, in box straightener on eBay from a salon for much less than the $100-200 sticker price and my poor, abused iron has lasted 4 years, including countless cord twistings and drops, even on concrete. It's the only iron that gets my hair straight (remember that frizzy hair? It's also very wavy). The other thing I love about this iron is that I don't have to get out a curling iron to round out my ends if I want to – I just twist it in the direction I want my hair to go and voila! I plan on upgrading my old, abused iron for a newer model in the next year, but I think my old one will probably hang on for a few years even if I don't.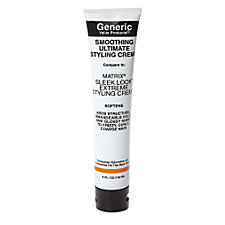 Generic Brand Ultimate Smooth Styling Creme – This last one didn't make the list, but it's a product that everyone should know about. First of all, if you didn't know that Sally Beauty has a generic brand that is chemically identical to big salon brands, you need to check out their website or store. I've purchased several of these products in the salon and then at Sally's and have noticed no difference in quality. This particular product is the same as Matrix Sleek Look Extreme Styling Creme. It's literally 1/4 of the price. It's one of the only products I've found that actually helps tame the frizz even in rainy weather. You know all those flyaways near your part? Smooth a tiny bit of this on it and they'll blend right in. The key here is to use just a little bit of product – only a pea-sized amount rubbed onto your palms before smoothing the hair where you want. You can always add more, but a little bit goes a very long way. It takes me months to go through this whole tube. It also works well for smoothing curls.
What are your go-to hair products? Do you covet a certain shampoo or spray? Is there a weekly conditioner that makes your hair silky smooth? Do tell.